What are false ceilings designs?
A false ceiling is commonly known as the secondary ceiling which adds a warm look to every room of a home. These ceilings do not only give aesthetic vibes to the home, but it gives high-end look that every end-user wishes to see in his/ her home. False ceilings are generally used to create an appealing look and simultaneously help to hide the wiring work.
To make the best false ceiling design ,different types of materials are used such as POP, Gypsum, Wood, Glass, PVC are to name a few. These false ceilings are light weighted, long-lasting, and fire and heat-resistant as well.
Types of False Ceiling Designs
If you are following the trend and wishing to go with the flow then there are numerous options available at different costs. You can choose the type of false ceiling as per your budget, listed below are highly used:-
Single layered false ceilings are the trickiest way where it easily draws attention. It is the best way to show a small space larger. There are various colors, shapes and textures used for such type of ceiling and you can choose as per your taste. Surely, this type of ceiling not only adds a new look to your home, instead it will add a positive feel to you.
• Single Layered False Ceiling:
• Multi-Layered False Ceiling :
A multi-Layered False ceiling is another way to give a room a whole bigger look; you can experiment best with this. For a perfect grandeur look this is the best option, provides a spacious yet wider look and allows to do some creativity with lighting.
• Plus- Minus POP False Ceiling: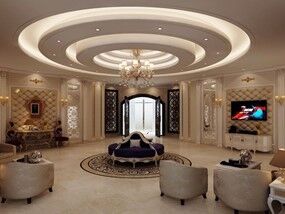 Plus-Minus POP False Ceiling design allows you to decorate your home more elegantly. Can create a stylish ceiling and offers you the best view and will enhance the internal beauty of your home. This trend is highly gathering appreciation among high-end home buyers and you can go with it.
• Coffered False Ceiling: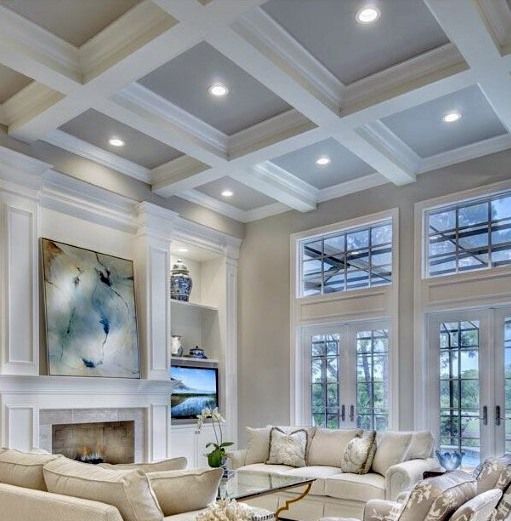 By using a Coffered False ceiling you can create the illusion of a higher ceiling height. This type of ceiling design brings a dramatic look to the space and it can reflect an alluring look.
How can you design your home Parts with a false ceiling?
False ceilings enhance the interior look of a home, also, there are many ways you can use to decorate your room. It completely depends on you whether you are planning to do the ceiling work in a hall or in an entire room. If you are planning to give a complete décor to your entire home then follow these tips and ideas and implement them in your personal space.
Simple False Ceiling Design For Hall
Hall is the center of attraction in the house. This is the prime place where we all love to get together almost at any time, arrange parties functions and so on. Surely, a hall is the prime focus of any residence hence many try to decorate this place in a more elegant way.
Especially, when a hall receives a high-end false ceiling it wears a charming look and reflects the best room in comparison to other rooms. Listed below are some false ceiling designs for the hall:-
Wooden False Ceiling Design for Hall
If you want to give the hall a sophisticated touch then you can try a wooden false ceiling design. It not only gives a trendy yet warm look to the hall but will reflect a fashionable appearance. You can try different textures and patterns that will enhance the view of the entire hall.
Gypsum False Ceiling Design for Hall
Give a trendy look to the hall by using a Gypsum false ceiling. The best advantage of such type of ceiling is you can it takes less time to install in comparison to POP (Plaster of Paris) ceiling. Gypsum false ceiling is easy to install and indeed it brings the best ceiling view to the hall.
Fiber False Ceiling Design to add fun
Fiber False ceiling is generally a mixture of natural and synthetic materials. If your budget is low and wishes to have a false ceiling then you can easily go for such type of false ceiling. You can go with the best textured to offer your ceiling design more enhanced.
POP false Ceiling Design for a small hall
This is the most popular yet common false ceiling design. End-user commonly ask for such design in their home. As POP ceilings are long-lasting and durable and easy to get in shape that is why it offers the best view as well.
By using POP false ceiling you can create a bigger look to your hall. Not only this, you can decorate it more elegantly.
False ceiling is so commonly used by the end-user and it is highly gaining popularity that, every modern home buyer demands a false ceiling in every room in a property. That is why many interior designers give much significance to false ceilings, as they can change the entire look of a room.
False Ceiling Design For Bedroom
The bedroom is the best space and best place to relax after tedious work. To catch a fast sleep its interior work should be done more clearly and intensely so that it can give you the reason to fall asleep even when you are under stress. Given below are some false ceiling design that goes well with a bedroom. Well, there are many options but here I am going to mention the 3 best false ceiling designs for the bedroom.
Tray false
ceiling:- For a simple bedroom, this idea will be better, astray false ceiling gives an upside-down view where you can decorate the ceiling with different lights and can light up the bedroom.
Coffer false
Ceiling:- The coffered ceiling is another way to represent your bedroom, as mentioned above you can easily give it a higher ceiling view. You can go with many textures and patterns to show a stylish look to your bedroom.
Circular false ceiling:- Circular false ceiling design is another way where you can create it more differently by adding a fan or chandelier, surely it will enhance the look of the bedroom along with this, the design will completely define the bedroom look.
False Ceiling Design for living room
Multi-Layered False ceiling: – If you have a bigger living space then you can go with this multi-layered false ceiling design. By using proper light you can make your living room more appealing and elegant.
False Ceiling Design for Kitchen and Dining room
Space Divider False Ceiling:- This design is specially used in India as Indians always extend the living room into a dining space. Space divider is a perfect false ceiling design that can not only give a unique look to your kitchen area as well as it will separate the sitting area.
Why use POP design for the false Ceiling in (Tata Eureka Park)
Tata Eureka Park is alternatively known as the best smart home, known for offering the best smart features. The development is best known for carrying home automation features. These smart homes are not only carrying smart features but the best interior as well as exterior design. Here, most of the amenities and facilities are superbly intended.
Coming to its false ceiling, Tata Eureka Park is serving the best POP design in every room, where you can get the best eye-catching. POP is weather resistance and offers durability and is easy to fix.
FAQ On False Ceiling?
How many types of False ceiling areas are there?
There are 4 types of false ceiling such as:
• Single layered false ceiling
• Multi-layered false ceiling
• Gypsum False Ceiling
• POP False Ceiling
Which False ceiling is commonly used?
POP false ceiling is commonly used and recommended.
Which False ceiling is budget-friendly?
If you have a low budget and still wish to add a trendy look to your home then you can go with a fiber false ceiling.