Gone are the days when the traditional homes were in demand, now it's time to get smart. The emergence of smart home technology has opened the doors to various comforts. It has allowed leverage living to the residents. Ever since the internet has come into our lives, things have changed tremendously. Even the homes are in control of remotes and you can access the lights, fans, ACs even not being at home. In a nutshell, the smart home concept widely adopts applications such as comfort, control, and security.
Also the homes these days are made completely secured from the disaster or things. Especially, you have noticed people have started shifting to the metropolitan cities to obtain smart living that is not available anywhere else anymore. One more feature of smart homes and the other modern structures these days is Aluminum Shuttering Technology which has multiple benefits.
The Impact of Advanced Technology on the Real Estate Industry
One of the latest examples of such type of construction is Tata Eureka Park. This brilliant housing community is the blend of home automation features and aluminum shuttering technology to serve you a better and improved living.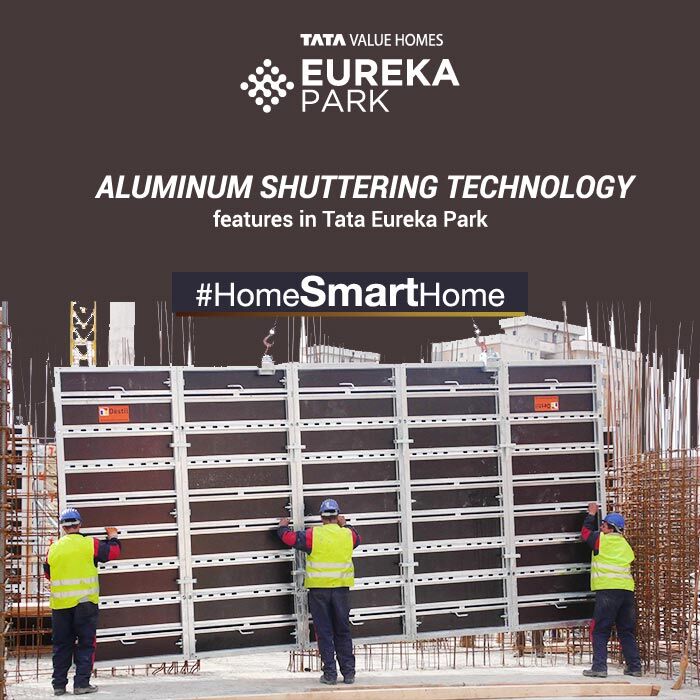 Know some of the important factors why this technology is now in use?
The construction work is durable and robust i.e. it will last long.
In comparison to traditional forms of construction this type of work provides enhanced safety, speed, and strength.
This reduces the chance of any kind of leakage or seepage issue. Also the finishing you get in this work is not obtained in any other.
For the current trend of home, this is the type of construction work needed that can give uniform quality.
Building work completion can be done faster in comparison to traditional construction.
Sturdy and strapping forms are fabricated with accuracy and precision and are easy to handle.
This work is highly suited for load-bearing wall construction and the technology is simple and cost-effective saving 15% costs in the structure.
It is the finest work a builder can choose for the construction, therefore, need minimum maintenance.
Any component of the building can be made with it like the stairs, windows, balconies, and other architectural features, etc.
The quality of the surface finish in this method is excellent, hence plastering is not required.
Cast-in-situ cellular construction is the type of construction used in this method.
In fact in this method, the floor slab form removing is possible without removing props. This is not possible in a conventional formwork system.
The sheer walls that are thin mean the higher carpet area. This means you get a good surface here.
The necessity of an Aluminum formwork system is rapidly increasing because of the rising demand for modern homes. Rapid urbanization is one of the main factors why this formwork is needed in the method of construction. Since the traditional method is slow so, this method is needed for quality and quick construction and a systematic approach.